Sherringham & District Kennel Association Limited Show – 1/5/2011
Best in Show.
Bearded Collie – Pellegrini's Marrox Mahina at Avebury. One of those dogs that takes your eye when you first see them. Full of type and super to go over. Well made throughout, well ribbed, correct angulation and in lovely condition. In lovely coat that flowed when she moved but gave her handler a hard time when she stood due to the breezy conditions. However that could not detract from her quality. I was particularly impressed with her smooth easy movement in profile with firm topline and correct tail carriage. She has lovely true front movement and a steady drive moving away. A thoroughly deserved BIS.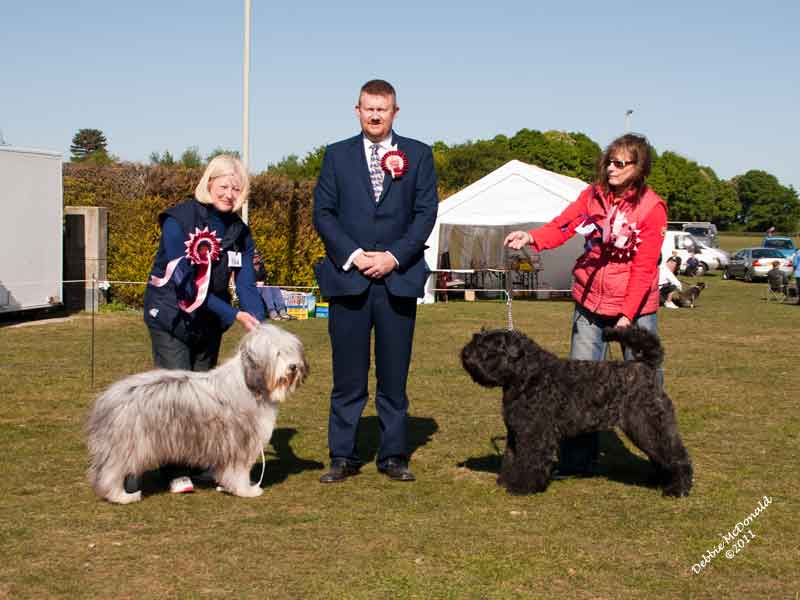 Bouvier Des Flandres – Nichols' Nikolaev Temperance Another super specimen to go over. Full of type, strong, short coupled and solid throughout. Lovely head with correct planes, gentle flow of topline from the neck, over the shoulders and into a strong level topline. Well made throughout with correct angulation, in super condition and with a good coat. Excellent mover, powerful yet, free flowing with good drive. RBIS
Best Puppy in Show
Siberian Huskey – Simms Arcticskies Blaze of Glory. This young man commands you watch him. Typey, clean lines and graceful on the move. So together for a youngster. Lovely head of good shape. Strength in neck through to well laid shoulders and well placed upper arm. Strong through body with correct level topline. Correct tail set and carried correctly. Such a lovely mover. So true fore and aft, a smooth easy gait with good reach and drive. BPIS
Lhasa Apso - Yaxley's Chethang Olesia at Dardanelles. Another coated breed having fun in the wind! But that did not put this young lady off. A very promising youngster with many more wins ahead of her I am sure. Good head and neck. Well laid shoulders over good length of rib cage. Good rear angles. Such a lovely mover, free striding for a small dog and true fore and aft. In good coat. RBPIS
AVNSC Utility
Junior (5,0a)
1st Clark, Pearson & Bolton's Anshee Bollinger TAF (Akita Inu) Just six months, promising young lady with lovely outline. Pleasing head, well made and very steady true mover. Very together for one so young and heading up a very good class. BP & PG2
2nd Goffin's Sweet Lady Lily (Miniature Schnauzer).
3rd Godfrey's Stelloma Heaven Scent (Shih Tzu)
Post grad (4,0a)
1st Buckles' Karshok Kandie Kisses (Tibetan Terrier). 20 month young lady, what a sweetie. Lovely shape, good head, well made throughout, coat coming nicely, just needs to mature. Best mover in the class. BOB & G1
2nd Wakeman's Enreveyar Ennea (Keeshund)
3rd Godfrey's Stelloma Dancing Dream (Shih Tzu)
Open (4,0a)
1st Pearson & Bolton's Kitapeis the Hunniebee ShCM (Akita). Very close between 1 & 2 in this class. 1st, 4yr old Akita. Questioning young man good shape with lovely bone. Good head and ears, nice feet, lovely mover.
2nd Buckles' Silgarhi Kangyur at Karshok (Tibetan Terrier)
3rd Wakeman's Enreveyar Ennea (Keeshund)
Lhasa Apso
Post Grad (6,2a)
1st Sutcliffe & Fleet's Newcliffe Moonlight Shadow. 2yr B. Small frame but beautifully proportioned presenting a typey outline. Pleasing head with lovely expression. Well made front and rear, lovely mover.
2nd Yaxley's Chethang Olesia at Dardanelles. 10mth B. BP, PG1 & RBPIS
Open (4,1a)
1st Yaxley's Dardanelles Wild Basil. 3yr D. Very nice boy presenting balanced outline. Masculine head of good proportions, good eye, well laid shoulders well ribbed. Lovely mover in good coat. BOB & G2
2nd Sutcliffe & Fleet's Newcliffe Phonex
3rd Free's Vaderlands Star Force with Marpori
AV Puppy Dog
1st Mudd's Royal Herculean Ironfield. 11mth D. (Border Terrier) Very typey young man with a good outline, super head & lovely expression. Good coat and texture, well made throughout and a super mover.
2nd Burke & Manston's Bonavoir Time Lord
AV Puppy Bitch
1st Clark, Pearson & Bolton's Anshee Bollinger TAF. See AVNSC Junior
2nd Gant's Romaydream Midnight Star
3rd Trodd's Chelsasa Final Image
AV special Beginners
1st Guyton & Guyton's Elbryden Lexi with Ansanda. (Whippet) 19mth Brindle B. Nicely put together a good outline. Lovely head with good ears. Very positive and true on the move, Best mover in the class.
2nd Bentley's Rivixter the Epic Encounter
3rd Senington's Lingbank Portia
AV Veteran
1st Bowes' Strathinver Red Ruby at Bowanne. (Norfolk Terrier) 9yr D heading up a very nice class of veterans. Smart little dog of correct shape, good head, well made throughout. Still a very good little mover, pleased to award him best veteran.
2nd Maddran's Waldmeister Abracadabra of Belheddon.
3rd Senington's Cerysan Athena at Lingbank
AV Members Stakes
1st Powley's Danehaven Detroit. (NSDTR) 4yr D. Lovely boy presenting a good outline. Good head and expression. Well made throughout and in good coat. Good mover. A worthy winner of a good class.
2nd Senington's Lingbank Portia
3rd Cook's Moorbrook Uptown Flirt at Pernickety
Judge – Ray McDonald