Woolwich, Bexley & DCS - 19th March 2017
Samoyed
Open (4,2a)
1st Howlett's Ch Tiksi Snowfire ShCM

Two typey litter sisters, both well made with good heads and pigment. Feminine all through. Both without their full coats and both moving well with lovely tail carriages.

The winner was just a little shorter in back and was a little straighter coming on. BOB & Group 2
2nd Howlett's Tiksi Snowstorm
Siberian Husky
Junior (2,1a)
1st Simm' Snowmist's Isaac (Imp Can).

What a super young man. Lovely shape and outline. Typey head with good ears & dark eye. Excels in conformation fore and aft with correct depth of chest and a nice forechest giving plenty heart and lung room. Lovely rear angles, correct turn of stifle, level topline, good tail set & carriage and a nice coat. True coming and going with a lovely driving action. So good he had to have BOB & BP. Thrilled to hear he won Group 3 and Puppy Group 1 then so nice to watch him go

Best Puppy In Show

.
Post Graduate (2,1a)
1st Simm's Arcticskies Mirror Image.

12mth dog. Rather out of coat and not looking his best but underneath there is still a nice youngster. Masculine head of good shape, stop well defined, nice eye and lovely ears. Straight front with well laid shoulders and good forechest. Good length of back to a well-made and well muscled rear with a good bend of stifle. Tail well set and carried straight. True coming and going, drives well. RBOB
Open (4,3a)
1st Simm's Berry Uola at Arcticskies (Imp LTU).

A nice 3yr B, well made but carrying a few extra pounds today and not in the best of coats at the moment. Super rear end and moves out well.
AV Gundog
Puppy (3,1a)
Two very nice puppies.
1st Delamere's

Gamerights Deep River Blues – Flat Coated Retriever

9mth B. Gorgeous head with good length, slight stop and dark eye. Good length of neck to well laid shoulders. Good bone and feet. Level topline with correct tailset and carriage. Love her rear angles, true and steady on the move once settled.




2nd Saunders' Rossclyde Highland Dancer - Labrador Retriever
Junior (1,0a)

1st Parsons' Sutersett Tom Collins at Bransett – Irish Setter.

12mth D. Love his long lean head. Racy all through with correct outling on the stand. Well laid shoulders and good return of upper arm. Well ribbed back and good depth, short loin and correct rear angles. Super front movement but not together on his rear today which spoilt his movement.

Post Graduate (1,0a)

1st Charles' Stagarth A Kind Of Magic – Spaniel (Welsh Springer).

This 3yr cam through to beat some nice opposition. Good size and shape with a pleasing head. Well made with well laid shoulders, good depth and spring of rib and a well made rear. Best mover in the class today. Straight coming and going with correct reach and drive in profile.


2nd Norbury's Medowgold Milk Shake at Heartbury - Pointer
3rd Cook's Glenturret Cutting Edge - Flat Coated Retriever
Res Maber's Hookwood Summer Nights - Pointer
VHC Delamere's Gamerights Memphis Blues – Flat Coated Retriever
Open (1,0a)

Broadbent's Hallbent October Toccata ShCM – Flat Coated Retriever.

6yr D. Liked his outline. Masculine all through, nice head with correct stop and a lovely dark eye. Well muscled through neck and shoulders which are well laid. Good forechest and depth of rib. Short loin to a well angulated and well muscled rear. Both a little sluggish on the move in the class but he stepped up in the challenge. Best AV.
2nd Gentleman's Ballyduff Blackcap at Embletay - Labrador Retriever
Gundog Group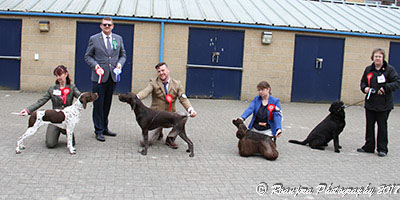 | | |
| --- | --- |
| | GP 1 Stuckey's Sh Ch Medogold Coralie of Pendan JW ShCM – Pointer. I have done this B well in the past and the only difference now is she is more mature. Super type, classic head, so well made, full of graceful curves and such a stylish mover. Pushed hard by the GSP but won through on her movement. |
GP 2 Smith & Reardon's Winterwell Fowl Play – German Shorthaired Pointer

. Another quality specimine but one I have not had the pleasure of before. Masculine head of good proportions, lovely shape and well made. Was somewhat distracted today which affected him on the move.
GP 3 White's Admiral's Shou A-One In A Million at Tantripp (Imp Rus) – Spaniel (American Cocker)

. Only 13mths but a lovely B who will take anyones eye. Lovely head, well made, good shape and such a stylish mover with lovely ground covering driving movement.
GP 4 Elliott's Winsleywood Wild Joker of Lyndham -

Labrador Retriever.

Another D that was unsettled today. As big as I would want but well made and good shape.
Gundog Puppy Group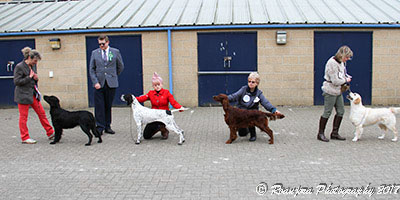 | | |
| --- | --- |
| | PGP 1 Taggs' Oiyou Flaming Star - Flat Coated Retriever. Heading up a line of very nice puppies. Loved her type & size. Super head, lovely shoulders and front, good ribbing and a nice rear. Super mover. |
PGP 2 Hazeltime & Welch's Hookwood Bust Babs – Pointer

Such a close decision with this classy B. Anotehr of good shape and such a lovely mover. Just lost out on her topline
PGP 3 Hall's Riverbrue Ophelia at Glennara – Irish Setter.

Such a baby but such a lot to like. Correct shape, lovely head, well made and a good mover.
PGP 4 Wedge's Riverscharm Devona Rose – Golden Retriever

Nice puppy of good shape and proportions. Pleasing feminine head, good neck and shoulders, lovely body and level topline. Well angled rear which she used to effect on the move. True with lovely drive
AV KC Good Citizen