Mountsorrel & DCS
10th April 2015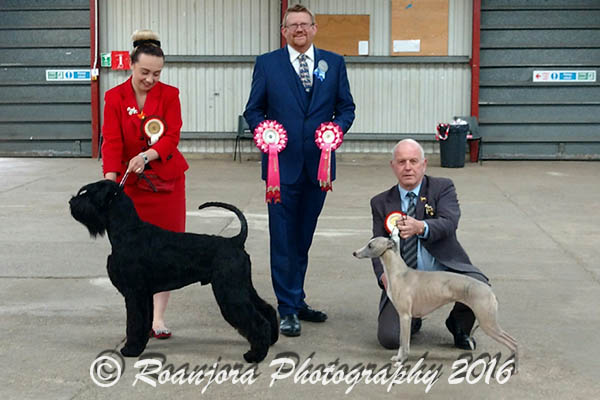 Best In Show - Houchin's Philoma Pay Back Time for Barnsdale – Giant Schnauzer.
What a lovely young man he is. Very stylish presenting an eyecatching correct 'square' outline. Love his head and furnishings. Super shoulders and front assembly with correct forechest. Straight topline with correct tailset and carriage. Well muscled rear and boy does he look a picture on the move? Stylish, true mover with correct reach and drive.

Reserve Best In Show - Conway & Chapman's Noircairn Chance Encounter ShCM – Whippet.
Super young lady. Another with that showmanship that catches your eye. Loved her head, feminine and so correct in shape. She flows from head to tail with well laid shoulders, deep chest, lovely top and underlines with correct slight arch over the loin to a well muscled rear that provides the power when she drives effortlessly round the ring.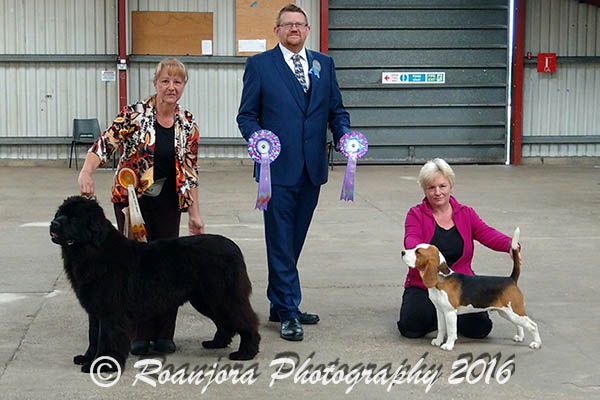 Best Puppy in Show - Smith's Comfortcove Careless Wispa – Newfoundland.
Oh what a lovely baby. 11mth B. Sometimes it can be so hard for the larger breeds to compete against some of the faster maturing small dogs but this young lady is captivating. Beautiful head and expression, well made front with well laid shoulders over a deep chest. Lovely rear and such an effortless steady mover. One to watch for the future

Reserve Puppy in Show - Coates' Gladstyle Google Me – Beagle.
8mths and a very smart young man. Liked his head and expression. Lovely front assembly. Correct ribbing, super flat level topline and a nicely angled rear end. A steady mover with correct amount of reach and drive.

AV Special Puppy Stakes
1st Coates' Gladstyle Google Me – Beagle.
2nd Dickinson's Shenleyvale Dancin At Dawn – Shih Tzu
3rd Holland's Stokinpaws Gravity – Miniture Schnauzer
Res Fenton's Layoli Kashmir Barkabitmor – Tibetan Terrier
VHC Fenton's Layoli Classic Forkandles – Tibetan Terrier
AV Special Open Stakes
1st Fenton's Layoli Hot N Smokin JW - Tibetan Terrier. Headed up a very nice class. Liked this young man for his shape and size. Pleasing head, well made with correct topline and tail carriage. Free flowing mover with good reach and drive
2nd Deveson's Lucky Liaison at Lianbray ShCM – Shetland Sheepdog.
3rd Bryans' Marilquvales Queen Elsa – Jap. Shiba Inu.
Res Woodhead's Vandreem Imperial Kennedy – Samoyed.
VHC Tierling's Llantrussa Rum Ba Ba – Flatcoated Retriever

AV Veteran
1st Welbourn, Dowsett & Tyler's Ir Ch Zumarnik Hot Pursuit CW12 ShCM – Maltese. 7yrs and can out move many a youngster. Good head , well made body with a lovely coat. Sassy true mover.
2nd Burton's Vodahond Innuendo - Newfoundland

AV Puppy
1st Henshall's Gemolli The Sorcerer – Italian Greyhound. Just 6½ months and a little unsure on the table. Well put together, of good shape and size. Moves so much better when his handler lets him find his own pace.
AV Open
1st Capps' Jimjoy Coco Channel – Retriever (Labrador). 18mth Chocolate B. Lovely type and shape. Pleasing head & expression, well muscled neck to well laid shoulders. Level topline to well muscled rear. Best mover in the class which just gave her the edge over 2nd
2nd Tierling's Llantrussa Rum Ba Ba – Flatcoated Retriever
3rd Ram's Gempoint Mr Findley - Pointer
Res Lewis' Annadanes Spaceman – Great Dane

Ray McDonald (Judge)