Hampshire Top Dog
28th March 2016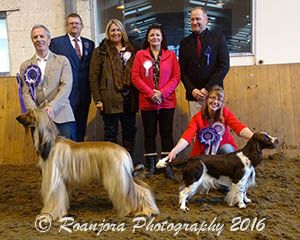 I would like to thank Neil and his team of dedicated helpers for inviting me to judge at this prestigious and well run event. I had a lovely day judging a variety of quality dogs.
Top Dog

1st Afghan, Ch Syrdarya Hazelnut Hobnob at Shukriya JW ShCM.

I had the pleasure of judging this boy in the first round. There he won through on his breed type and conformation as there was only enough room to catch glimpses of his movement. So pleased to see he made it through to the final which gave him the opportunity to show everyone his stylish typical ground covering springy movement.
2nd Bearded Collie, Natterjack Dwarka's Dream JW

What a super young lady. I had the pleasure of judging her in the semi final. Full of breed type, lovely coat and must be one of the best moving Beardies around, so true with lovely topline and tail carriage.
3rd Gordon Setter, Sh Ch Lourdace Stable Lad at Rackens ShCM

Not as glamorous as 1 & 2 but an excellent example of this breed. Another one I had the pleasure of judging in the first round and as with the Afghan, so happy to see him in the final eight. Another who made the most of the big ring, able to use his construction and muscles to good effect.
| | |
| --- | --- |
| | 4th Siberian Husky, Jacalous The Sorceror at Vakasin |
| | |
| --- | --- |
| | 5th American Cocker, Fielgar Majestic Legend |

Top Puppy


1st English Springer Spaniel, Loxbourne Disco Diva at Kingsheath JW.

My notes say WOW! When I saw this young lady in the semi final I knew she had to be a contender. Super type, lovely to go over and boy what a mover. So clean coming and going with effortless, ground covering reach and drive.
2nd Pointer, Just Wilburt by Hookwood JW

What a lovely young man. The second of my semi-final winners. Typey with a classic masculine head. Well made and well muscled. Moved precisely in the smaller ring and then in the hands of his experienced hander, moved up a gear in the big ring.
3rd Airdale, Jokyl Gold Star

A quality young lady. Good type with a lovely head and nice short back. Moves straight but I just felt she lacked a little drive today which detracted from the overall picture
| | |
| --- | --- |
| | 4th Irish Red & White Setter, Corranroo Camero at Hitides |
| | |
| --- | --- |
| | 5th Siberian Husky, Ninlil of Pollarine Arktika over Zanjelic JW (Imp Ltu) |