Boston Championship Show 2017
Puppy Groups
What an honour to be asked to judge the puppy groups and Best Puppy in Show at my local Championship Show. Thank you to the Boston committee for all their hard work and for their hospitality over the 4 days.

I found my Best Puppy in Show from the Working Group in the Newfoundland, Nandobears Im What Im Camnoire (Imp DEU)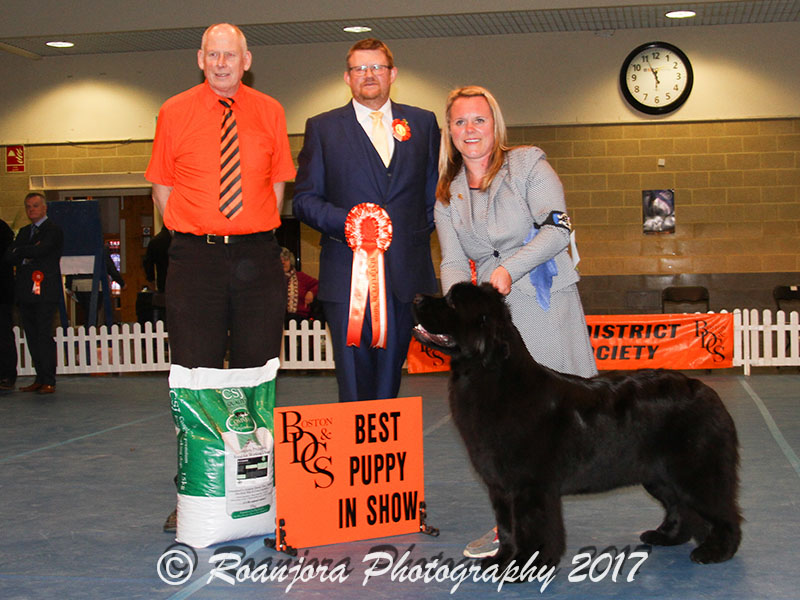 My reserve was the Bracco Italiano, Braccorion's I Put A Spell On Alcazar.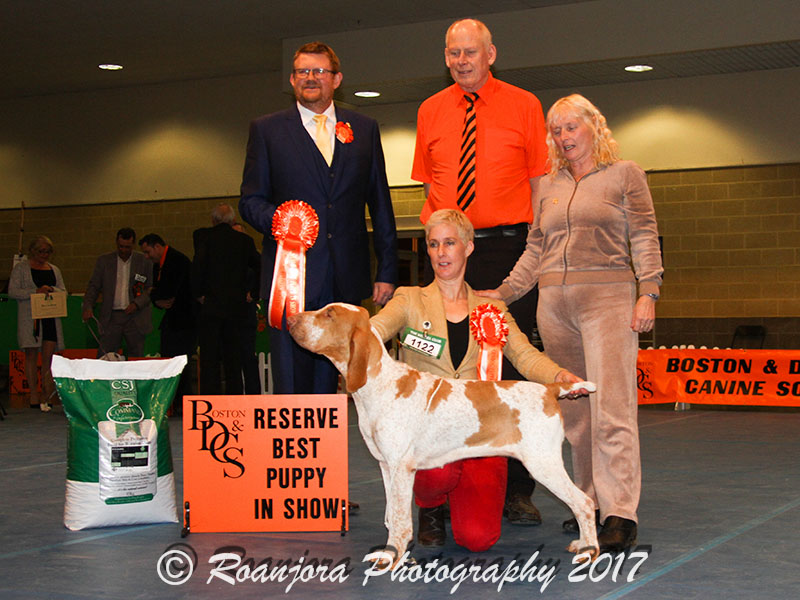 First Day
There were a few nice puppies in the pastoral group who took my eye on the stand but then appeared to be in awe of their surroundings when moving.

PASTORAL PUPPY GROUP
| | |
| --- | --- |
| | PGrp 1 Walker's Tooralie's Matilda. Shetland Sheepdog. What a little star who didn't put a foot wrong in either ring. Loved her size and shape. Super shape to her head with beautiful well place and well used ears. Nice neck to well laid shoulders over correct spring and depth of rib. Level topline to a well set and carried tail. Correct angulation behind and what a mover. True coming and going with a beautiful easy free profile gait. |
PGrp 2

Smurthwaite's Samnouska Spirit In The Sky.

Samoyed. This boy is full of presence beyond his tender age. Super head and neck and commands attention. Dark eye and correct pigmentation. Lovely front assembly with well laid shoulders. Deep chest, well sprung ribs and carrying a lovely coat. Well muscled behind. A little erratic on the move at first but more settled in the main ring which elevated him to his place.
| | |
| --- | --- |
| | PGrp 3 Allan & Harlow's Allmark La La Land. Australian Shepherd Dog. Another promising puppy looking mature for her age. Well made with good proportions and pleasing head, firm neck through to well laid shoulders, good spring of rib and depth to chest. Straight front. Well angulated rear which is used to give lots of rear extension on the move. True coming and going, ground covering with reach and drive in profile. |
PGrp 4

Jebson's Austmans Aurora Australis.

Australian Cattle Dog. Loved this little lady. Feminine but strong in head with developing cheeks and depth to foreface. Firm muscular neck flowing into well made forequarters. Level topline, firm loin and well angulated and well muscled rear. On the move she commands attention, true from all sides with sound drive from the rear.
WORKING PUPPY GROUP
| | |
| --- | --- |
| | PGrp 1 Cameron's Nandobears Im What Im Camnoire (IMP DEU). Newfoundland. Wow, what a stunner. 11mths & what an impressive young lady. Head broad but feminine, short square muzzle and dark eye. Firm neck flowing to shoulders, nice straight front which she retains on the move. Powerful well muscled rear used to effect on the move giving her an effortless free flowing gait with plenty of drive. True coming and going she was not going to be denied this place. One with a very bright future. |
PGrp 2

Lambert, Eastham & Craig's Bouvpilot Maiden America (AI). Bouvier des Flandres

. So typical of the breed, workmanlike, not eye catching but when you get hands on and then watch her move you suddenly see everything come together. Clean head with flat skull and enough furnishings. Well muscled neck flows into well laid shoulders, good depth of chest and straight front both standing and on the move. Her moderate rear angulation giving her enough drive on the move which is true fore and aft and showing power and elegance in profile
| | |
| --- | --- |
| | PGrp 3 Reddin & Williams' Rarjo Quicksilver. Portuguese Water Dog. Such a baby but with a big personality. Super head of correct proportions, good stop, dark eye and lovely width & depth to his muzzle. Short strong neck to a straight front with well laid shoulders. Chest of good depth for age. Level topline to well angulated rear and correct tailset and carriage. Good bone. |
PGrp 4

Payne's Birleyvale Bellissima.

Boxer. Fell in love with this bitches head when I went over her. Broad, deep, lean and powerful but retaining femininity of a bitch. Super firm well arched neck to well laid shoulders and upper arm giving her an amount of forechest. Nice straight front. Deep well sprung ribs through firm loin to a correctly angled and muscled rear that she uses well on the move to give powerful drive, covering the ground with ease….when she concentrates,

Second Day
GUNDOG PUPPY GROUP
What a quality group this was. There were some lovely dogs that did not make the cut today.
| | |
| --- | --- |
| | PGrp 1 Burke's Braccorion's I Put A Spell On Alcazar. Bracco Italiano. What can I say apart from absolutely fabulous. This young lady takes your eye, full of breed type with style and presence from her long lean head with correct divergent planes to her long muscular rear. Short powerful neck leads into well laid shoulders and upper arm that gives forechest. Deep, well sprung ribs, lovely top and underline. On the move in the smaller ring she was good, in the big ring she came into her own under this talented handler and the final run round sealed it for her. A star of the future. |
PGrp 2

Grummitt & Adler's Manorwell Dakota.

Labrador. This young lady caught my eye when she first came into the ring. Nothing flashy, just typey & workmanlike. Hands on revealed all I suspected, a strong well made young B. Broad yet feminine head with a definite stop, pleasing eye and nice ears. Well laid shoulders and upper arm, good forechest, well sprung ribs of good depth and well ribbed back to a firm, deep loin. Level topline. Developing rear with good muscle and on the move she is lovely to watch, true coming and going with an easy ground covering gait with drive.
| | |
| --- | --- |
| | PGrp 3 Stafford's Gunalt Repartee Farnfield. Weimaraner. A lovely young B. Loved her outline and overall picture. Good length to skull and foreface, long clean neck to super shoulders and upper arm. Good forechest, super topline, ribs of good depth and well ribbed back to firm loin. Lovely rear angles with well-turned stifle. True coming and going with plenty of drive so evident in profile. |
PGrp 4

Chorley-Newton & Chorley's Pawsword Priceless To Kerryfair.

Irish Setter. Loved the outline this boy presents on the stand. Super head, long and lean with good stop and lovely dark eye. Long muscular neck flows into a gently sloping topline, Well laid shoulders and good length to upper arm. Nice forechest, correct spring and depth of ribbing. Firm loin to a broad, well-muscled and nicely angulated rear. True movement coming and going with lovely reach and drive used to good effect in the big ring.

Third Day
HOUND PUPPY GROUP
| | |
| --- | --- |
| | PGrp 1 Spavin's Dialynne Just Ella – Beagle. Beautifully balanced bitch. Lovely head with slight dome and definite stop with good width to muzzle. Good shoulders and upper arm showing forechest and depth of brisket. Level topline to correct tailset and good rear angles. Loved watching her move, free striding with correct reach and drive and so true coming and going. |
PGrp 2 Eaton's Linphil Kili – PBGV.

Loved this happy young man who was giving his handler a hard time. Full of character. Good head proportions and shape with required furnishings. Neck well set into laid back shoulders, deep chest and prominent sternum, good spring of rib to a firm loin and well muscled rear. Lovely topline and good body proportions. Free, true, lively mover.
| | |
| --- | --- |
| | PGrp 3 Wood's Ardencote Aiming High – Whippet. Loved the grace and balance of this bitch. Lean through the head with a flat skull and neat ears. Elegant neck flowing into well laid shoulders. Deep chest and straight front. Lovely smooth curves and graceful arch over her loin. Broad, well angulated rear. So true and precise on the move. |
PGrp 4 Heather's Whiteorchard Nebula – Irish Wolf Hound.

Loved the togetherness of this young lady. Still obviously a lot of maturing to do but today she was so together, held her head high and showed her sock off. Liked her head, feminine and not too broad with a nice eye. Muscular well arche

d neck, broad chest with well laid shoulders. Straight front with good bone. Deep chest, firm loin and level topline. Well muscled hindquarters. Easy, steady and true on the move.
UTILITY PUPPY GROUP
| | |
| --- | --- |
| | PGrp 1 Hart's Anjesics Kingsmaker Of Khazedel - Lhasa Apso. What a little star with presence and attitude. Lovely head with dark eye. Nice arch to neck, well laid shoulders and straight front. Correct body proportions and level topline with good tail set. Nice rear angles. Carrying a lovely coat that shimmered when he moved. Lovely view of clean pads behind and straight in front. |
PGrp 2 Killilea & Clure's Redwitch Back Of The Net (Ai) – Akita.

This 11mth boy had certain presence about him. Lovely head with flat skull and broad muzzle. Well made and well muscled front assembly with good breadth and depth to chest. Firm topline and strong through the loin to a well-made rear and carrying a good thick coat. Just wasn't as tidy on the move.
| | |
| --- | --- |
| | PGrp 3 Watkins' Caromarda Oakey Dokey- Eurasier. What a lovely young lady. Lovely shape to head. Well made front with good angulation. Firm level back, good depth of chest and forechest. Firm loin to a well angulated rear. High set tail carried close to back. Coat developing well. Straight coming and going, moderate gait in profile. |
PGrp 4 Green's Verony Veni Vidi Vici - Tibetan Terrier.

Lovely overall balance. Pleasing head with definite stop and strong muzzle. Firm neck of good length into well laid shoulders. Good depth and spring of rib. Level topline and well made rear. Another good mover finished off a very pleasing lineup.
Forth Day
TOY PUPPY GROUP
| | |
| --- | --- |
| | PGrp 1 Farmer's Sangria Midorchi Motivation – Japanese Chin. This young man had that quality that cannot be defined. One you first think, that's nice, then once you have had hands on and seen him move suddenly he is the benchmark. Lovely breadth to head with large dark eyes and ears that frame his face, super front assembly, nice straight front, good lovely outline for this age. Straight behind, coat developing and on the move he has to be watched. Lovely reach with the height expected, strong and straight behind. Had to be on form to win. |
PGrp 2 Coad's Regina Bichon You Make Me Happy - Bichon Frise.

What a super little showman. Lovely head with dark eye and good pigment. Lovely coat well prepared and presented. Nice straight front with well laid shoulders and upper arm giving forechest. Broad through loin giving a nice flat back to high set tail. Good rear angles. Very smart on the move.
| | |
| --- | --- |
| | PGrp 3 Santoriello & Skelton's Tubize Manhattan By Pinicio - Miniature Pinscher. What a smart young lady. Loved her head shape, nice eyes, attentive expression, erect ears Lovely length of neck flowing into a firm topline, straight front and good deep chest. True coming and going and with a correct hackney action |
PGrp 4 Reddin & Williams' Breezelyn Miss Taro– Pomeranian.

What a sassy little character she is. Lovely shape, so compact. Good head, short neck into a lovely front, straight and true both standing and moving. Well-rounded chest, short coupling to a good rear and well set tail. Coat developing and quite full. Lovely brisk mover.
TERRIER PUPPY GROUP
| | |
| --- | --- |
| | PGrp 1 Goodley's Glendraterra Glad Rag - Fox Terrier (Smooth) This young lady kept catching my eye. Balanced outline, lovely head with flat skull, slight stop dark eye and neat ears. Clean neck to well laid shoulders and a straight front. Chest deep to a short firm loin and short back to well set tail. Muscle developing behind. So tidy on the move. Could not be denied. |
PGrp 2

Dowdy's Greentree Gold Mombo To Denzilly (Imp USA)

-

Soft Coated Wheaten Terrier.

Another super puppy and lovely example of the breed. Lovely head with correct planes and flat skull. Firm neck to well laid shoulders over a deep chest. Nice straight front. Short coupled level back and high tailset. Good rear used well on the move which was free and lively with good reach and drive. Another showman.
| | |
| --- | --- |
| | PGrp 3 Chamberlain's Rekkincrew Burnt Oak Boy - Staffordshire Bull Terrier. Muscular young man with clean lines and not overdone anywhere. Broad skull, nice ears and good with and depth to muzzle with well filled cheeks. Short muscular neck to a lovely straight front and well laid shoulders. Good spring and depth to rib, short firm coupling through to well muscled rear. |
PGrp 4

Thompson-Morgan's Belleville Slipknot NAF

-

Norfolk Terrier.

This sassy young lady just kept on showing. Lovely shape. Good width to her skull and a short strong muzzle. Short firm neck into a well-made front with straight legs. Well sprung ribs, short lever back to a high set tail. Nice little mover with plenty of drive.
Ray McDonald (Judge)